Commercial
Patio Canopies
A patio canopy will turn a seasonal outdoor area into a comfortable year-round dining space.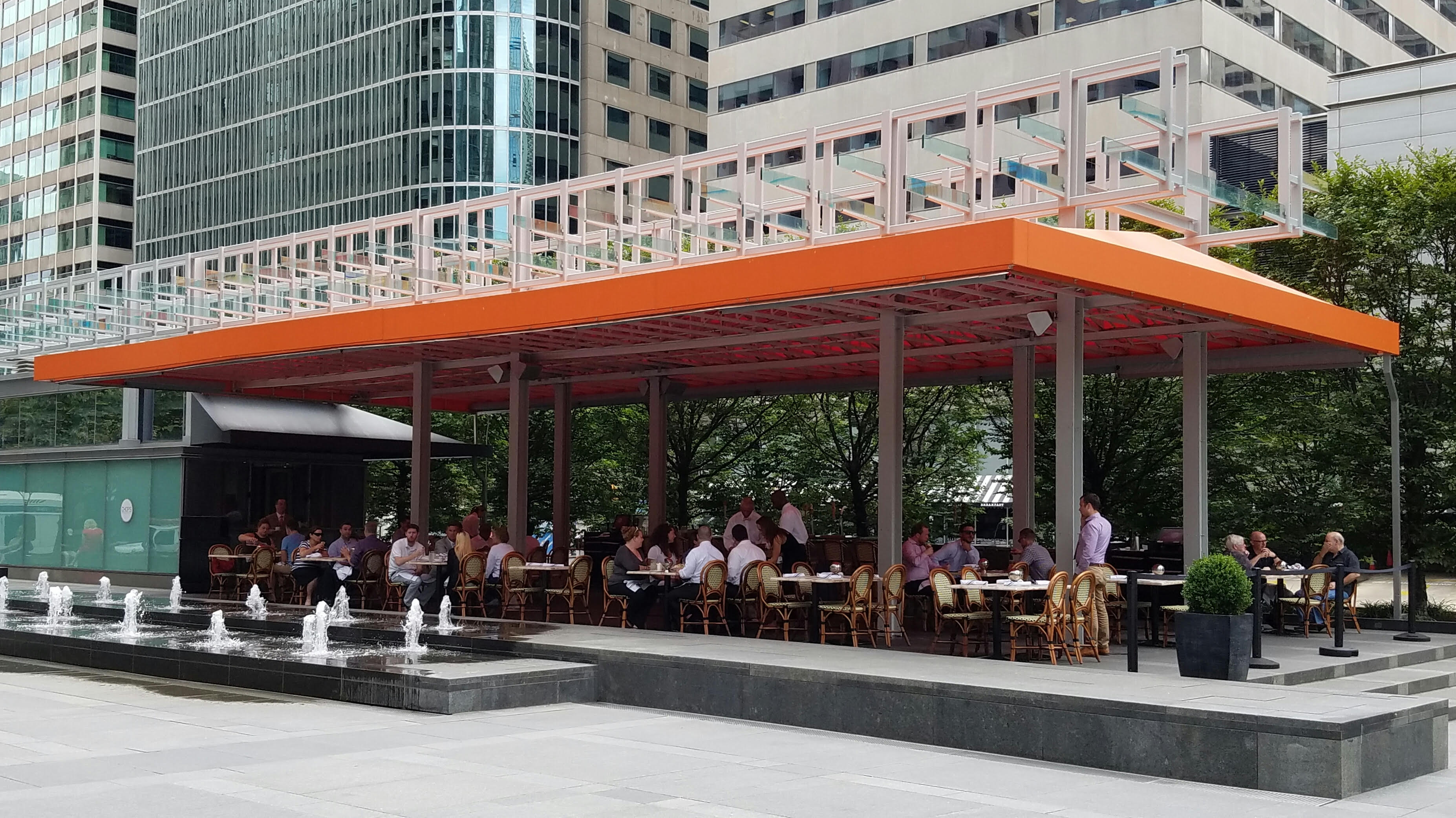 A necessary part of any
patio experience
Relaxing under a patio canopy is a far better experience for guests than baking under the sun or fussing with umbrellas. Truly a zero compromises solution, a patio with one of our fixed canopies provides all the enjoyment of ourdoor living, and eliminates the discomforts. Blocking sun and weather, a patio canopy extends the usability of outdoor spaces into the fall. With the addition of curtains, a canopy can even be turned into a full patio enclosure for the winter!
Offer a venue that isn't at the mercy of mother nature
Your outdoor space is much more attractive to potential customers if there is weather and sun protection for their guests. It is too stressful and unpredictable to rely on Mother Nature for event-friendly weather. With patio canopies, your events will carry on regardless of rain, greatly reducing the chance of lost revenue related to weather. Having a shaded and protected area that is available to rent, your facility may be able to host multiple events at one time, increasing the accessibility of your facility and potential profits.
Create an enclosed outdoor space with curtains
Keep your guests comfortable dining outside on your patio, regardless of the time of year or weather. Create a full restaurant patio enclosure by adding curtains to an existing patio canopy, or installing a patio canopy with curtains built in. Retain heat and keep precipitation out.
Our curtains are available in a variety of different styles, from breathable translucent screens for light control and moderate wind protection, to solid fabric that matches that of your canopy. Our most popular for restaurants are our clear vinyl curtains, that preserve your guests' view while protecting them from wind, weather, and cold.
Crafted to fit your space
with a custom frame
Our patio canopies are built around a custom welded metal frame. Built to last, this structure will remain rock solid and rust-free through years of weather and use. Combined with our durable custom fabric covers, our patio canopies are an investment that you can rely on for years to come.
Fabric: 100% solution-dyed woven, UV resistant fabrics
Frame: 1" Gatorshield® steel tubing
Dimensions: Custom Fit
Seams: IncrediSeal™ Heat Welded Seams
All season options available
Binding: Same fade-resistant fiber as fabric
Mounting options: Wall, soffit, roof
Cover Attachment: Lacebands keep fabric tight to the frame
Thread: GORE® TENARA®
Hardware: Aluminum or galvanized steel