Knowledge Base
The Ultimate Guide to Retractable Awnings
Everything you need to know before investing in a retractable awning for your home.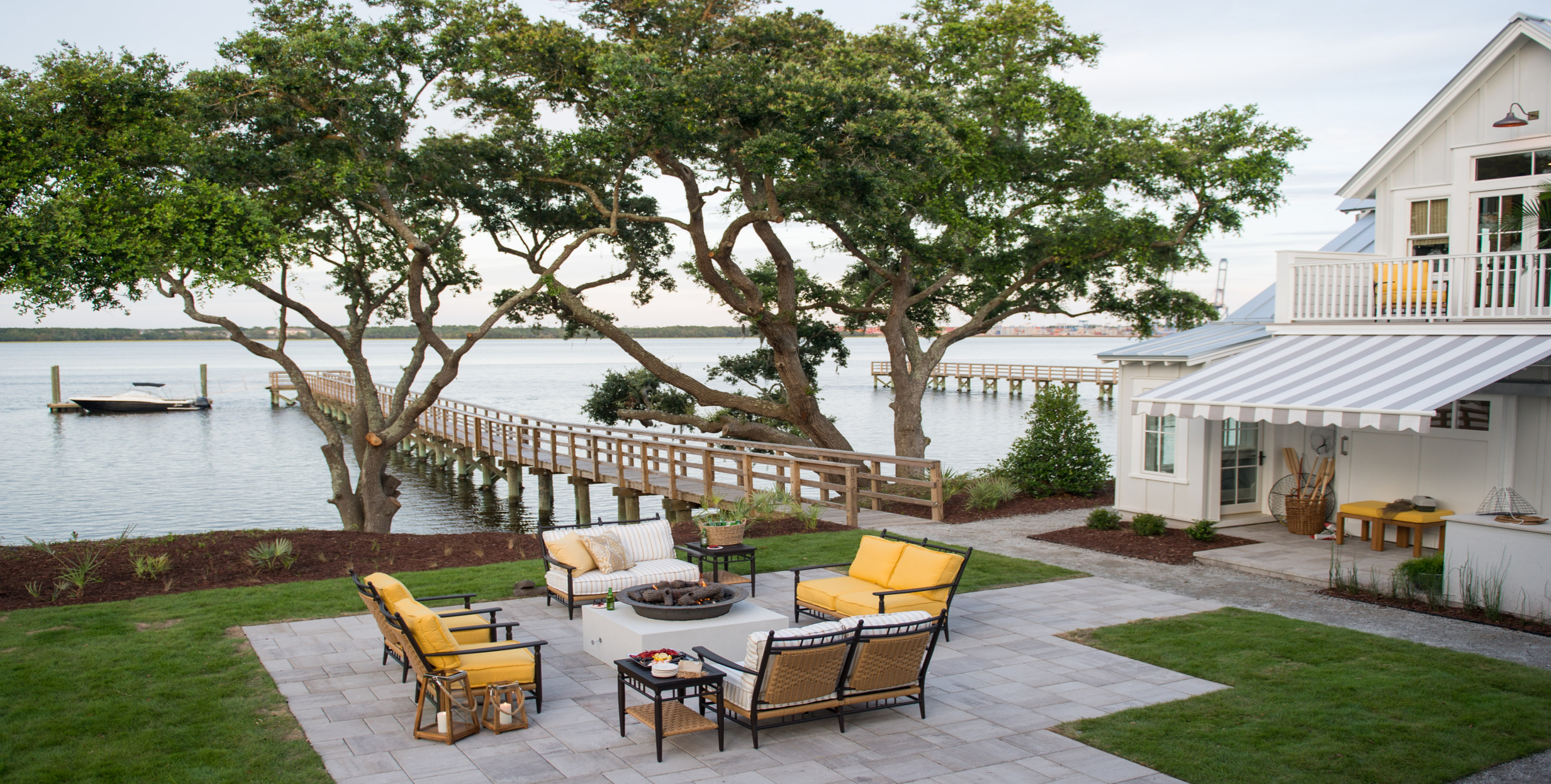 Introduction
We at Humphrys Awnings have created this Ultimate Guide to Retractable Awnings to inform home and business owners of the many benefits of investing in retractable awnings. Retractable awnings are equal parts beautiful and practical, and come with several benefits (some of which you may not expect). This guide will cover everything you need to know about retractable awnings, from the types and fabrics available to the benefits of installing a retractable awning and everything in between. Armed with this information, you will be able to select the right awning for your space -- and of course we're always here to help.
Humphrys Awnings is a pioneer in the design and manufacture of retractable awnings. We use the top brands of fabric from all around the world in hundreds of different colors and patterns. Our hardware is made from the most durable materials and is of the highest quality. We stand by our products with one of the best warranties in the business. Learn why our reputation for quality spans fourteen decades and counting! Lets get started.
What is a Retractable Awning
A retractable awning is an awning that can be either manually or mechanically retracted and opened depending on the user's needs. Awnings can be used to provide shade and privacy, beautify your surroundings, create additional usable outdoor space, and to brand your commercial location. Retractable awnings are permanently mounted to the exterior of your home or place of business via brackets and can be installed over patios and decks, windows and doors, and above apartment terraces and balconies. They provide excellent value, are easy to take care of, and can be made in custom colors, prints, and sizes.
Are you wondering what to look for when shopping for a retractable awning? Read more here about the most important components in retractable awnings and why they matter.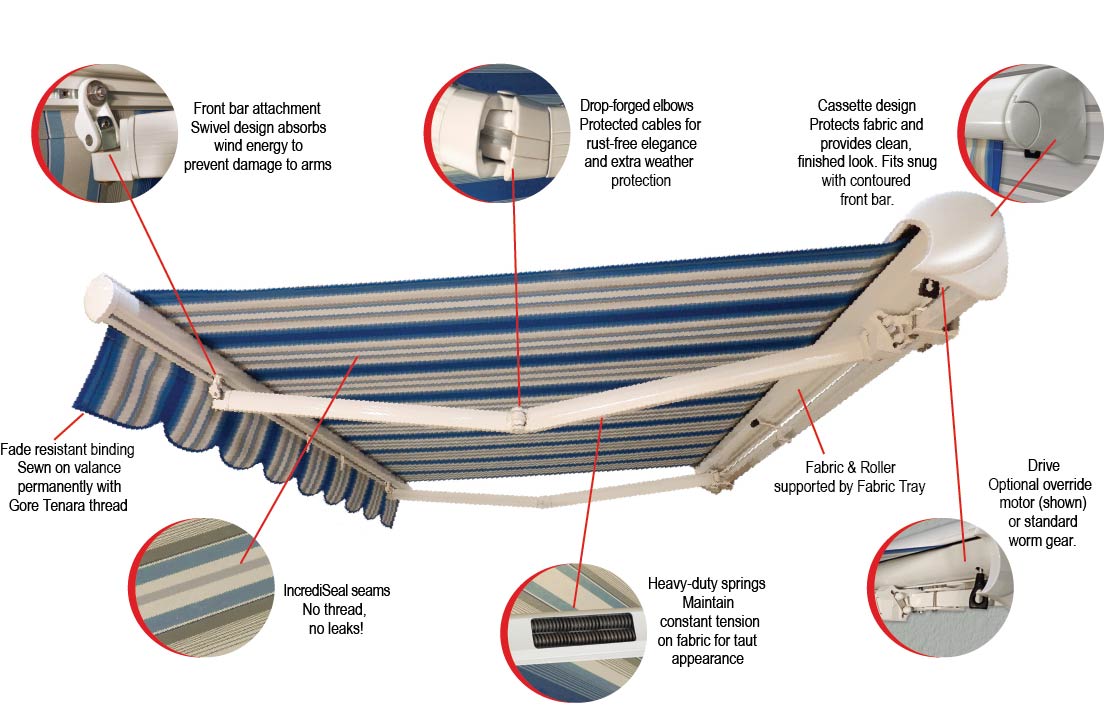 Why Do People Love Retractable Awnings?
Retractable awnings have a host of benefits that will extend your enjoyment of the outdoors:
Choice: You can choose full sun or cool, comfortable shade at any time of the day, extending the useful hours of your outdoor space in even the hottest months of the year.

More space: Retractable awnings create additional space for working, playing, and entertaining, allowing you to utilize space that may be underused in the warmer months.

Curb appeal: Retractable awnings beautify your home and when it's time to sell will create an impression in potential buyers that is hard to match.

Sun protection: Indoor and outdoor furniture, rugs, and wood floors that receive shade protection from retractable awnings last longer due to the blockage of UV rays.

Long-lasting: Retractables last longer than traditional fixed awnings because they can be retracted during bad weather and are thus less likely to suffer water damage.

Keep the sun at bay: There's no longer any need to step out onto a blazing hot deck or spray down hot furniture with the hose so you can sit on it. Pets and people alike will appreciate cool surfaces for lounging.

Stay outside: The shade under an awning can provide a 20 degree drop in temperature from the ambient surroundings. That means more time outside when it counts!

Save money: Retractable awnings can literally pay for themselves in the short or medium term with the savings in electric bills. Without the sun beating down from outside, indoor temps can decrease by up to 15 degrees, giving you a significant monthly decrease in cooling charges
Find the right awning for your house
Now that you're excited to choose your new awnings, where do you begin? To start, there are several different types, some that stretch out horizontally and some that drop vertically. To some extent, the type you choose will depend on the location you want to protect from the sun. This holds true for the fabric as well. When it comes to choosing colors, you'll want to decide based on the setting (city, suburban, beach, etc.), the color of your home or building, and your personal preferences. Then it's time to choose between manual and motorized functionality. And if you're overwhelmed by the options, don't worry--we're here to help!
Learn the types (click for a full breakdown)
Where will it be installed?
Retractable awnings have many more applications than just shading windows and doors. With their vertical drop, solar shade awnings can be used to shade an outdoor kitchen, dining, or bar area so you can enjoy cooking, eating, and drinking outside. Pergola shade awnings can be installed over a pergola to provide shade below in any location around your yard. You can cover a deck with a large canopy that is controlled by a drop arm, allowing you to specify the awning's pitch depending on the angle of the sun. Look for ideas throughout this guide for unexpected uses for the many types of retractable awnings Humphrys has to offer.
Our awnings are useful for shading porches, patios, decks, the backyard, swimming pools, doors, windows, and balconies. We can mount them from the roof, on walls, or in eaves under the soffit.
Pick Beautiful and Robust Fabric
We offer a vast array of fabric choices from the top outdoor fabric manufacturers in the world. Brands such as Sunbrella, Recasens, Sattler, Dickson, and Para Tempotest offer great color saturation and fade resistance, low maintenance, mold and mildew resistance, and even UV protection. Some fabrics will perform better in the wind or in salt water areas, while others will offer greater color choices or the ability to print logos and patterns.
Most of our fabrics are solution-dyed acrylic, as this fabric is extremely UV resistant and tends to keep its color and beauty for years and years. There are uses for other types of fabric however. Find out more about each type of fabric by composition:
Selecting the Right Color for Your Home
With hundreds and hundreds of color choices, Humphrys Awnings is sure to offer the sun protection you need in a color that you adore! A good place to start is to think through your preference for light or dark colors. Light colors are perhaps more practical in that they reflect sunlight more efficiently than dark colors, and you will find more savings when choosing a lighter color. However, colors like navy, red, green, and black all have their uses and work well when set against certain house colors.
Color is just one consideration in the search for the perfect retractable awning. Will you choose a striped, patterned, or solid awning? Would you like a scalloped valance? What should the hood look like when the awning is retracted? Should you include drop shades for additional sun protection? Click here for a full guide on matching a color to your home's style.
Manual vs. Motorized Retractable Awnings
It may not be surprising that manual retractable awnings are a more budget-friendly option, while the convenience of motorized retractable awnings make them a bit more of an investment. Both come with the benefits of being able to open and retract your awnings to suit your needs and shade preferences. A manual awning has a hand crank similar to what you may have used in the old days to close and open a car window. Motorized options can be controlled by a wall switch, remote control, or app. Some retractable awnings can even be set to roll up or retract based on the sun's movements; an optional wind sensor triggers the closing of the awning in windy and rainy conditions to prevent damage when you're away from home.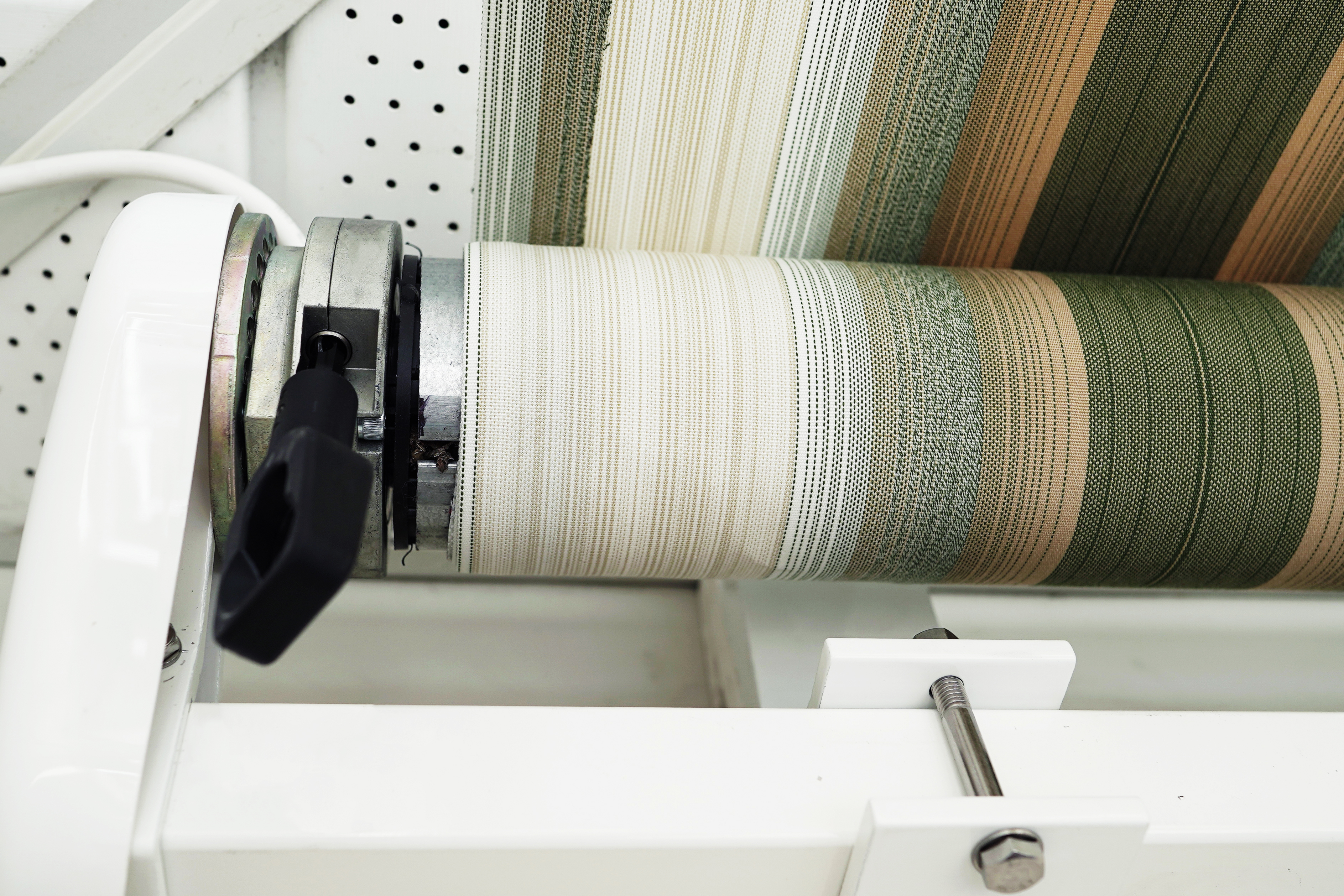 How Much Maintenance Do Retractable Awnings Need?
An attractive aspect of a well made retractable awning is the very low maintenance needed to get the best out of your awning. With just 10-20 minutes per month, your awnings can be kept free of dust and dirt with a quick spray of the hose. Aside from an annual scrub brush session and lubrication of the metal parts, your awnings require very little time to keep them looking and functioning at their best!
Beyond simply keeping the awning clean and in good shape, it is important to prevent damage from weather. The lateral structure of the retractable awning makes it particularly vulnerable to things like high winds and heavy rain. Since it is only attached on one side and extends out quite a distance, it is important to keep the awning retracted whenever there is a risk of bad weather. To learn more about maintaining your awning, click here.
What Sizes Do Retractable Awnings Come In?
Retractable awnings can be fabricated for virtually any need that you have, whether for residential or commercial spaces. That said, there are some limitations when it comes to width and projection, simply to maintain structural rigidity and to fit the folding lateral arms. To a point, the wider the retractable awning, the further your horizontal projection can also be. That said, there are some specialized retractable designs that allow these limitations to be bypassed, enabling retractable awnings that extend further than they are wide.
Understanding the sizes available for retractable awnings as well as the relationship between length and projection is an important prerequisite for measuring your space for one.
How Much Does a Retractable Awning Cost?
A quick Google search for retractable awnings brings back results ranging from $300 to $10,000, and the reasons for price differences aren't always apparent. But the old adage 'you get what you pay for' certainly applies here, and many differences are easy to see with a second glance.
Inexpensive awnings ($3 to $8 per sq/ft), such as those you would find at Home Depot, Wayfair, and similar retailers, generally come as kits and are complicated to assemble and install. By necessity they are lightweight enough to transport and install without professional assistance. This means that durability, usability, and aesthetics are secondary priorities. These awnings are best for occasional use (such as with an RV or on a cottage), since heavy use can wear them out quickly.
High-end awnings ($20 to $45 per sq/ft) prioritize everything that cheaper awnings sacrifice. They generally are constructed with thick, heavy, robust parts, and offer a wide range of options for convenience and increased comfort. These awnings are also often custom-made, enabling a far greater range of sizes, features, and colors/patterns than down-market options. The trade-off is that these products are very difficult to install on your own and are expensive to ship, so working through a dealer or installer is a must.
Mid-range awnings ($10 to $15 per sq/ft), such as the well-known brand Sunsetter, are a compromise. While more durable than the awnings sold at big box retailers as well as more customizable, mid-range awnings are still made to be shipped nationally and installed by the homeowner. They are also constructed to hit a lower price-point. All of these things mean that some durability, aesthetics, and features have to be sacrificed. Despite this, mid-range awnings will better stand up to routine residential use, and come with significantly better product support than budget options.
The price isn't the only factor that affects the total cost of retractable awnings, though. To learn more about retractable awning costs, click here.