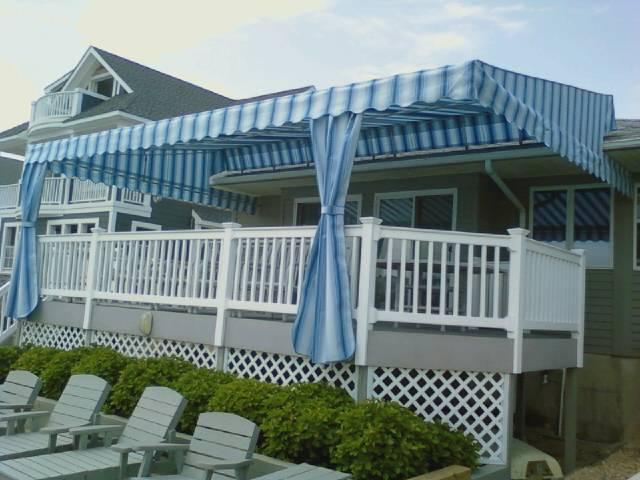 FAQ
Backyard Awnings & Shade Solutions for Your Home
A backyard space isn't complete until it has some form of shade. Without it, the space is only usable a few weeks out of the year.
Do you ever look at your patio or deck and think "how can I maximize the potential of this space?" Do you visualize entertaining guests in your backyard but feel it is not host-friendly?
Backyard Awnings From Humphrys Awnings Can Provide the Perfect Shading for Your Home
Backyards are easily and often overlooked areas of residential property. A retractable awning for your home can be the simple first step to adding usable square footage and creating a more functional, inviting and pretty space. Stationary and retractable backyard awnings for your home can help you transform your outdoor area from one that is impractical to a comfortable and attractive environment where you love to spend time. When your awning is installed you will instantly have an outdoor living room where you can relax in the shade, and enjoy outdoor activities by yourself or with friends and family. The protection from the sun and rain that an awning provides is invaluable to the amount of time you can now spend outside.
Backyard Awning Ideas and Products We Sell
Looking for more backyard canopy recommendations? Humphrys sells a variety of options that would work perfectly for your home:
Benefits of a Backyard Shade Solution
Humphrys backyard awnings don't obstruct your view and can be adjusted based on your preference

Plenty of fabric options, including textures, colors, and patterns

Humphrys can also provide backyard canopies and pergolas
The backyard awning systems available from Humphrys will add an elegant touch to your home's exterior. Each one is crafted to enhance your home's property, according to your design and logistical preferences, and size needs. Humphrys offers a beautiful assortment of fabrics in colors and patterns that will certainly appeal to your taste and the décor of your home. We also carry popular brands such as Sunbrella. For inquiries about the other brands we carry, prices, or ordering, contact us today! With awning systems by Humphrys you will achieve an upgraded outdoor space that addresses all your form and function needs.