FAQ
What is the Best Fabric for an Outdoor Awning?
Beyond color and pattern, are there things you should know about awning fabric choices? Yes, there are, and you can find all the details here.
Awnings are not only an excellent aesthetic choice for outdoor spaces, but they are a functional one as well. A high-quality awning can provide much-needed shade, a cooler area to relax, protection from the elements, and even UPF rated protection from skin-damaging UV rays. But how do you know which fabric is the best? Besides your preference in colors, patterns, and texture for your outdoor space, there are qualities such as durability, tear resistance, mold resistance, and ease of maintenance that will also factor in. That is why it is important to understand how awning fabrics have matured through the years, which fabrics have risen to the top, and what the pros and cons are.
How Outdoor Awnings Have Advanced Through the Years
The fabric options for outdoor awnings have greatly advanced, particularly in the last ten years. Awnings were originally made from canvas, but other solutions to outdoor fabrics were developed to provide better stain and water resistance.
CANVAS
An early material used for awnings was canvas, originally made from linen or hemp while modern canvas is made from cotton. Canvas was known for its durability and thickness, but it required additional treatments in order to resist water and stains. Cotton duck (or duck cloth) is another type of traditional cotton fabric that is less coarse due to its tighter weave. Both of these types of fabrics are still being produced, however very few in the awning industry still offer this option to fabricate awnings due to rot, mildew, and fading issues.
COATING-BASED FABRICS
Early options for outdoor fabric awnings were very limited and typically involved an acrylic or vinyl coating that was applied to the surface of the cotton canvas in order to improve the material's resistance to water and weathering. However, there were issues with this approach; the acrylic painted canvas tended to shrink while the vinyl-coated canvas typically did not hold its color well.
Another example of a coating-based outdoor fabric is acrylic-coated polyester, commonly used for boat covers, grill covers, outdoor umbrellas, and awnings. This material tends to be durable and highly water-resistant. However, these coated products are not very breathable which can lead to mold and mildew issues and the coating itself is prone to fading after extended UV exposure. These fabrics also have very limited color availability.
VINYL FABRICS
Another alternative material commonly used as an awning fabric is either laminated or coated vinyl. They are strong, durable, waterproof, and easy to maintain. They are, however, not as flexible as other awning materials, which makes them susceptible to tears and this is not appropriate for windy areas. There are also limited choices when it comes to colors and patterns for vinyl fabrics.
SOLUTION-DYED ACRYLIC
Arguably the most effective approach to developing a fabric that can survive the outdoors is solution-dyed acrylic. With this type of fabric, the fibers are dyed in acrylic pigments resulting in color that goes all the way through the fiber.
Because the fabric is dyed all the way through, this type of fabric is highly resistant to fading (which has always been a major problem for outdoor fabrics). The resulting fabric is much softer to the touch than coating-based fabrics, and highly resistant to water, mold, mildew, and dirt due to the added protective finish. These fabrics are also very easy to clean.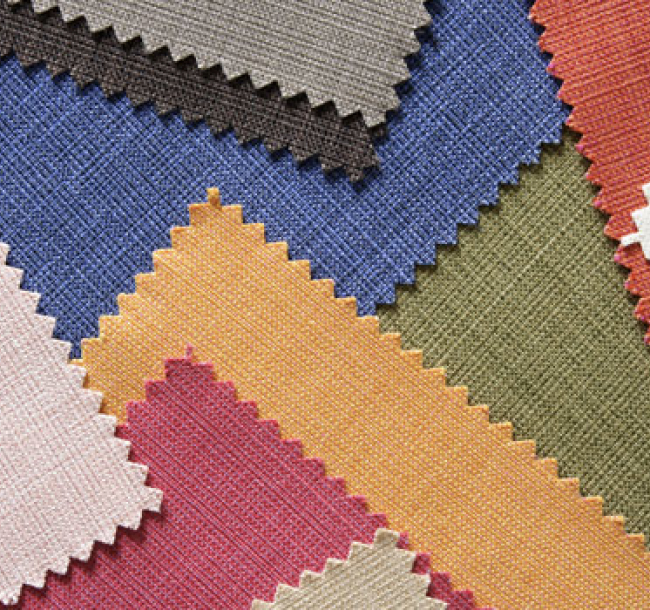 Popular Outdoor Awning Fabric Brands
There are several major brands of awning fabric available, all with their own special features. Each of the brands we are about to discuss is solution-dyed acrylic, which is the most advanced and effective awning material to date.
PARA TEMPOTEST-House Brand
Tempotest® (which translates to time and weather tested in Italian) was trademarked back in 1964 and has been offering customers the very best in shade protection ever since. Parà was established in 1921 and continues to be a worldwide leader offering cutting-edge innovations for the shade, marine, and outdoor living markets in 126 countries around the world.
Tempotest® fabrics are the only performance fabrics with the added protection of Teflon® Extreme. This world-renown finish technology offers unmatched resistance to dirt, water, and oil so you know your fabrics will look amazing in the future…
Their latest fabric collection is a symphony of colors, textures, and patterns worthy of the Renaissance period itself. This offering showcases a timeless design inspired by Parà's hallmark Italian style.
It is no surprise that Tempotest® has become one of our house brand fabrics!
RECACRIL-House Brand
RECacril, an import from Spain made by Recasens, is another outstanding awning fabric. It is made from solution-dyed acrylic yarn for long-lasting color, and it is woven in such a way to maximize its tear strength and tensile strength for a highly durable, tear-resistant fabric. This method, known as the Infinity Process, makes it highly water-resistant and dimensionally stable so that your awning will last long and stay beautiful.
Of all the brands we carry, RECacril is the most tightly woven, due to a smaller yarn and a correspondingly higher thread count. This means their fabric is more water-resistant as well as being particularly durable. So to the extent that we recommend any of these brands over the others, RECacril is on the top of our list.
RECacril is also highly antimicrobial, making it resistant to both mildew and mold. In addition, it is UPF rated to aid in protection from the negative effects of the sun on human skin and is very easy to maintain. Unlike other fabrics, it is also printable for additional customization, rotproof, and recyclable.
SUNBRELLA
One of the best-known brands of awning fabric is Sunbrella, which has been around for over fifty years. Their awning fabrics are solution-dyed with highly UV-stable pigments for long-lasting color. They also provide excellent UPF protection to further protect the humans beneath it from the effects of the sun (although it will not take the place of sunscreen) and most of their outdoor fabrics have The Skin Cancer Foundation Seal of Recommendation.
SATTLER
Sattler is another high-quality solution-dyed acrylic awning fabric that is imported from Austria. Like the other fabrics discussed so far, Sattler's awning fabrics are resistant to UV effects such as fading and material degradation while also providing UPF rated protection to those beneath them. These fabrics are practically water repellant and highly stain resistant when the TexGARD Easy Clean Finish is used on the fibers.
DICKSON
Dickson awning fabrics, are imported from France and are also made from solution-dyed acrylic fibers, making them fade resistant. In addition to the bright colors, these fabrics are UV, water, and stain-resistant. They are also easy to maintain, resistant to mold, and extremely durable with excellent tear resistance. Finally, awnings made from Dickson fabrics can be cleaned with just soap and water; however, the manufacturer does recommend a once-a-year deep cleaning with Tex'Activ Clean for the removal of any stubborn stains.
Pros and Cons of Solution-dyed Acrylic Awning Fabric
There are several recurrent themes to be noticed in the discussion of awning fabrics, including the following:
● The dye goes all the way through the fabric
● Fabrics are available in bright colors and to match just about any outdoor décor
● They are highly resistant to fading and UV degradation
● Outstanding UPF protection
● They are highly water-resistant (not waterproof)
● They are easy to clean with no special chemicals required
● They do not promote the growth of mold or mildew
● They are durable and long-lasting, with a 10-year warranty for just about every brand (Humphrys offers two additional years)
Some other positive aspects of solution-dyed acrylic include its natural resistance to shrinkage and how quickly it dries. In fact, acrylic itself is considered a moisture-wicking fabric and can actually repel water (making it a hydrophobic material). In addition, acrylic materials are so soft that they are being used more and more for indoor furniture.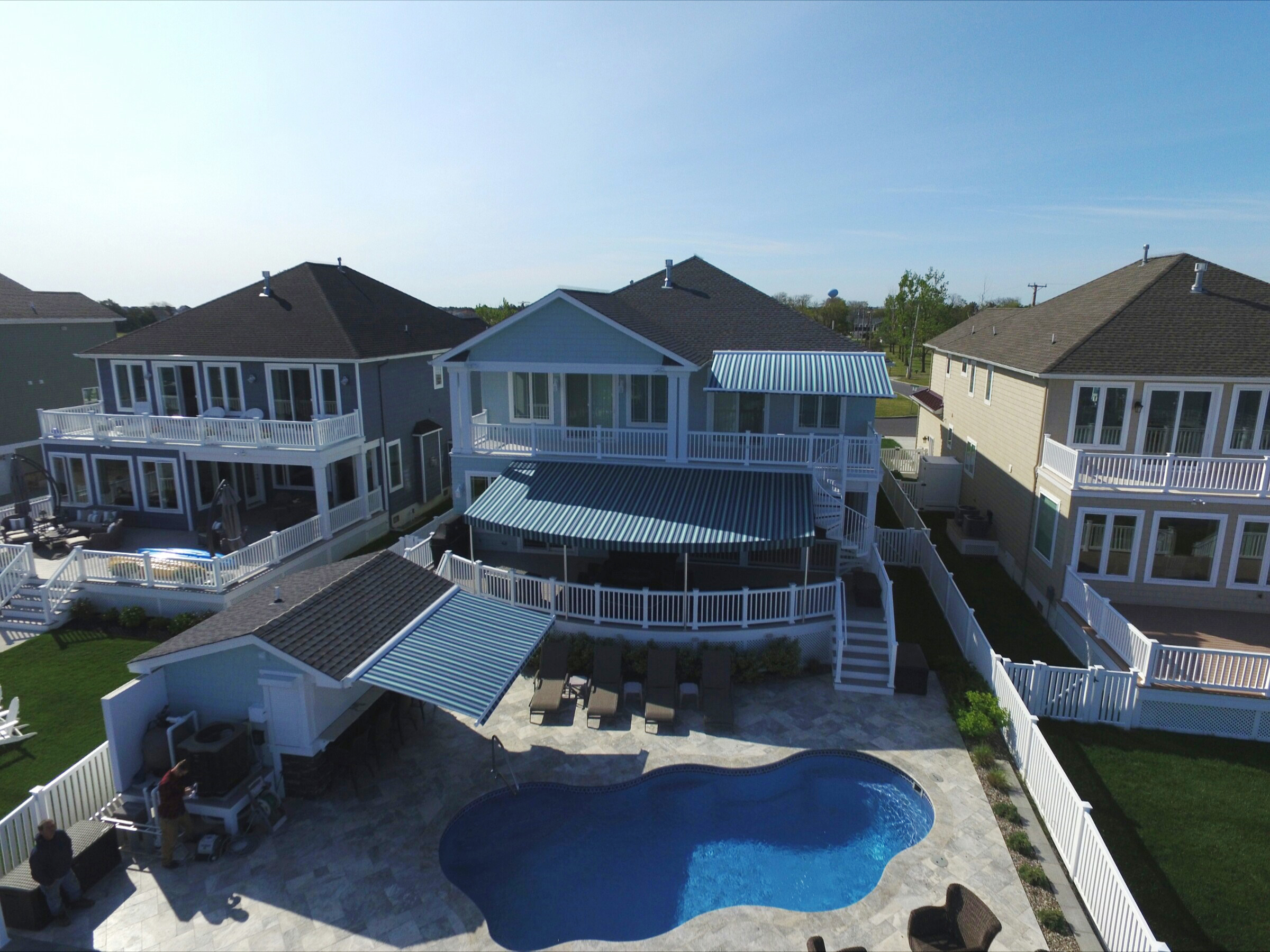 What some consider the major drawback of solution-dyed acrylic, however, is that it may be difficult to find intricate patterns because of the way the fabrics are woven. On the other hand, screen printing can be used to achieve many patterns, but the printed colors may not be as long-lasting and durable as the base acrylic color.
As far as costs go, solid colors are the cheapest, followed by stripes patterns. This difference in cost is directly related to the complexity involved in weaving the fabric from multiple colors of yarn.
Acrylic can have other drawbacks, also. The first area where it is likely to show wear is anywhere that it experiences abrasion, rubbing, or chafing (e.g., rubbing against a tree limb); however, the solution-dyed acrylic fabric remains quite durable and highly resistant to tears regardless of this characteristic.
Conclusion
Selecting a fabric for your outdoor awning is difficult. You want to strike just the right balance between aesthetics and functionality — and our recommendation for achieving that balance is solution-dyed acrylic. It has bright, fade-resistant colors while offering durability, mold and mildew resistance, and easy maintenance over its long life. You can even find awning fabrics to provide protection against cancer-causing UV rays. You can find awnings made of canvas or covered cloth, but none of them offers the combined beauty and long life of solution-dyed acrylic.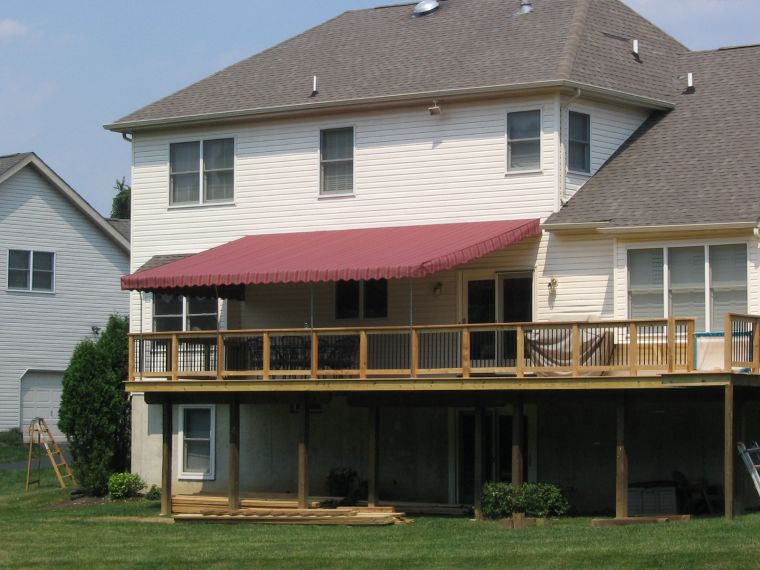 Contact Humphrys Awnings
If you are designing an outdoor area that needs an awning, contact the experts at Humphrys Awnings. We carry a wide assortment of colors and patterns that are sure to match the look you are aiming for. And we carry those various designs in brands such as RECracil, Sunbrella, Dickson, and other major brands — including those that specialize in solution-dyed acrylic awning fabrics. Our team will be happy to answer your questions and help you find the perfect awning material for your outdoor space!