Knowledge Base
The Benefits of Owning a Retractable Awning
Why a retractable awning could change the way you enjoy your home.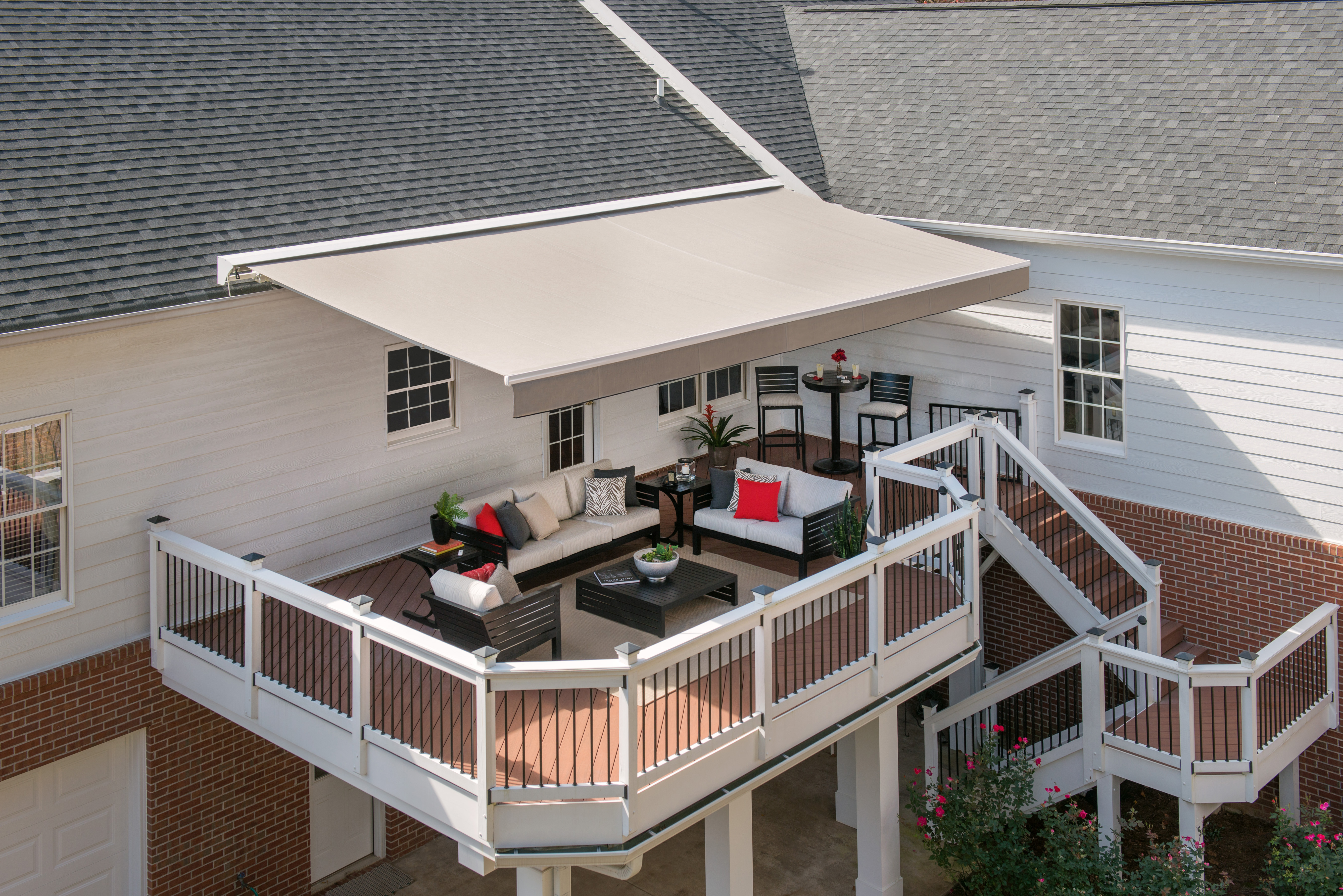 Why a Retractable Awning?
At Humphrys, we like to think that we have the best-kept secret in the book when it comes to improving your experience of your outdoor space: the retractable awning. The utility of the retractable awning is undisputed: shade when you need it, sun when you want it, all at the click of a button. But it's unlikely that the average home or business owner thinks about all the inherent advantages of on-demand shade. Retractable awnings can protect indoor furnishings and lower air conditioning costs. At a retail location, they can make a bold statement and add to your branding, inviting customers to take a closer look.
Our customers agree that there is no single design element that can tie their outdoor furnishings and look together like a stylish, brightly colored or patterned awning. It might not be the first design element you think of, but it's the first one that family, friends, and customers will notice.
Given the beauty and functionality of a retractable awning, most of our customers tell us that they're sorry they didn't invest in one much sooner. Retractable awnings may just be the most useful outdoor apparatus that most home- and business owners don't realize they need.
Consider some of the many benefits of having a retractable awning installed at your home or business.
Retractable Awnings Let You Stay Outside Even in the Middle of Summer
We wait all winter to shed our sweaters and heavy coats to enjoy the freedom of spring and summer. But before you know it, the fresh air of spring gives way to the brutal heat of summer, too often sending us seeking relief indoors. But this kind of defeats the purpose of having a beautiful outdoor patio or deck, right? The summer months should be spent entertaining, relaxing, and soaking up the sun—not baking in the blistering heat. That's where retractable awnings come in. A retractable awning can actually reduce outdoor temperatures by 20 degrees. That means 85 degrees can feel more like 65—and that means more outdoor enjoyment of those precious summer days. And if you're looking for protection from deadly skin cancers, an awning provides a physical barrier--and unlike sunscreen, you never have to reapply!
It Provides the Option of Comfortable Shade -- or Full Sun -- Anytime
A retractable awning gives you the best of both worlds: At the touch of a button, you can enjoy the sunshine or instantly create a cool, shaded area in the heat of the afternoon. Make the most of spring, summer, and fall weather by blocking the sun at its most sweltering and retracting it during the cooler months or in the morning and evening hours.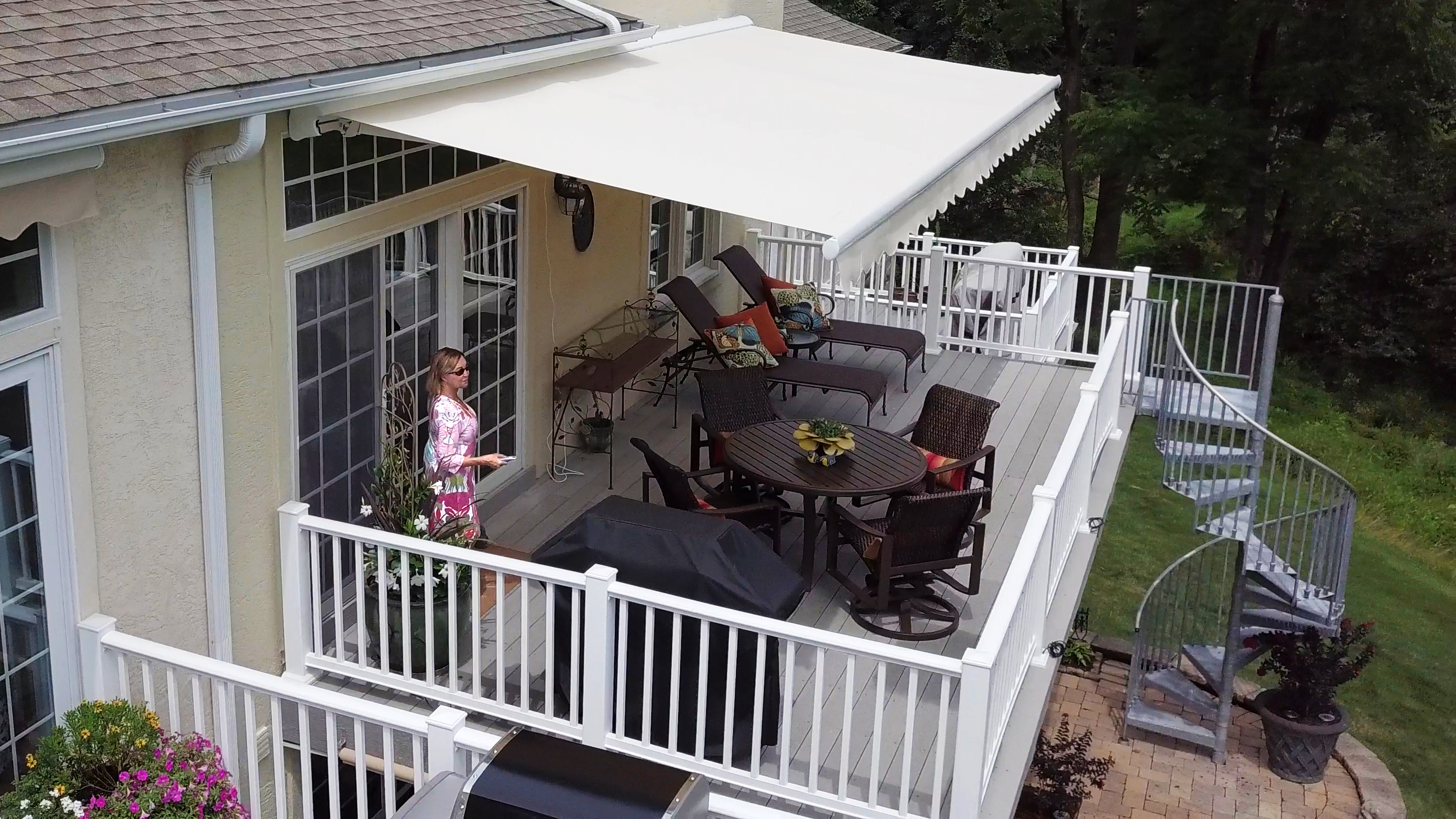 It Expands Your Livable Space for Lounging, Entertaining, and More
In the heat of summer, temperatures can be truly unbearable. Imagine a world of barbecues and parties that don't need to be moved inside because your guests are on the verge of melting. A retractable awning finds the middle ground between oppressive heat and the frigid indoor air produced all summer long by constant use of AC.
Retractable Awnings Offer Protection from Fading
The benefits of a quality, professionally installed retractable awning reach far beyond your outdoor enjoyment. Awnings prevent fading of indoor furnishings due to UV rays, protecting your valuable rugs, furniture, and wood floors. At times of peak indoor sunlight, you can extend your awning with the push of a button, keeping direct light and glare out of your house and extending the lifetime of your furniture.
Retractable Awnings Outlast Regular Awnings by a Mile
Regular awnings are practically obsolete, and for good reason. Awnings that stay up year-round—through rain, snow, hail, and wind—get battered by the weather and typically have a reduced life due to water and wind damage. A retractable awning, on the other hand, folds away during bad weather at the click of a button, ensuring that it remains unscathed by unnecessary exposure. The awnings retreat into a sheltered housing, ready to be used when the weather allows it again.
Retractable Awnings Can Pay for Themselves
Depending on the size of the window or windows your awning will cover, the protection afforded by a well-constructed and -installed retractable awning can drop indoor temperatures by 15 degrees. The medium to long term savings you can see from the use of a retractable awning means that they can literally pay for themselves. And since the AC won't need to work as hard, it means they are eco-friendly as well.
Retractable Awnings Have Curb Appeal
When you're ready to move on, a retractable awning is an intangible that demonstrates that your home is not just another run of the mill property. Prospective buyers might not consciously think of it as a selling point, but a colorful awning stays with you and makes a strong impression in a buyer's mind. Like a good deck, patio, or garden, it is a feature that can endear prospective buyers to the property.