Knowledge Base
How to Measure for a Retractable Awning
Before you call awning dealers to get quotes, it's a good idea to measure the space you would like to cover and know how big your awning needs to be. Read on to learn exactly how to measure your space for a retractable awning!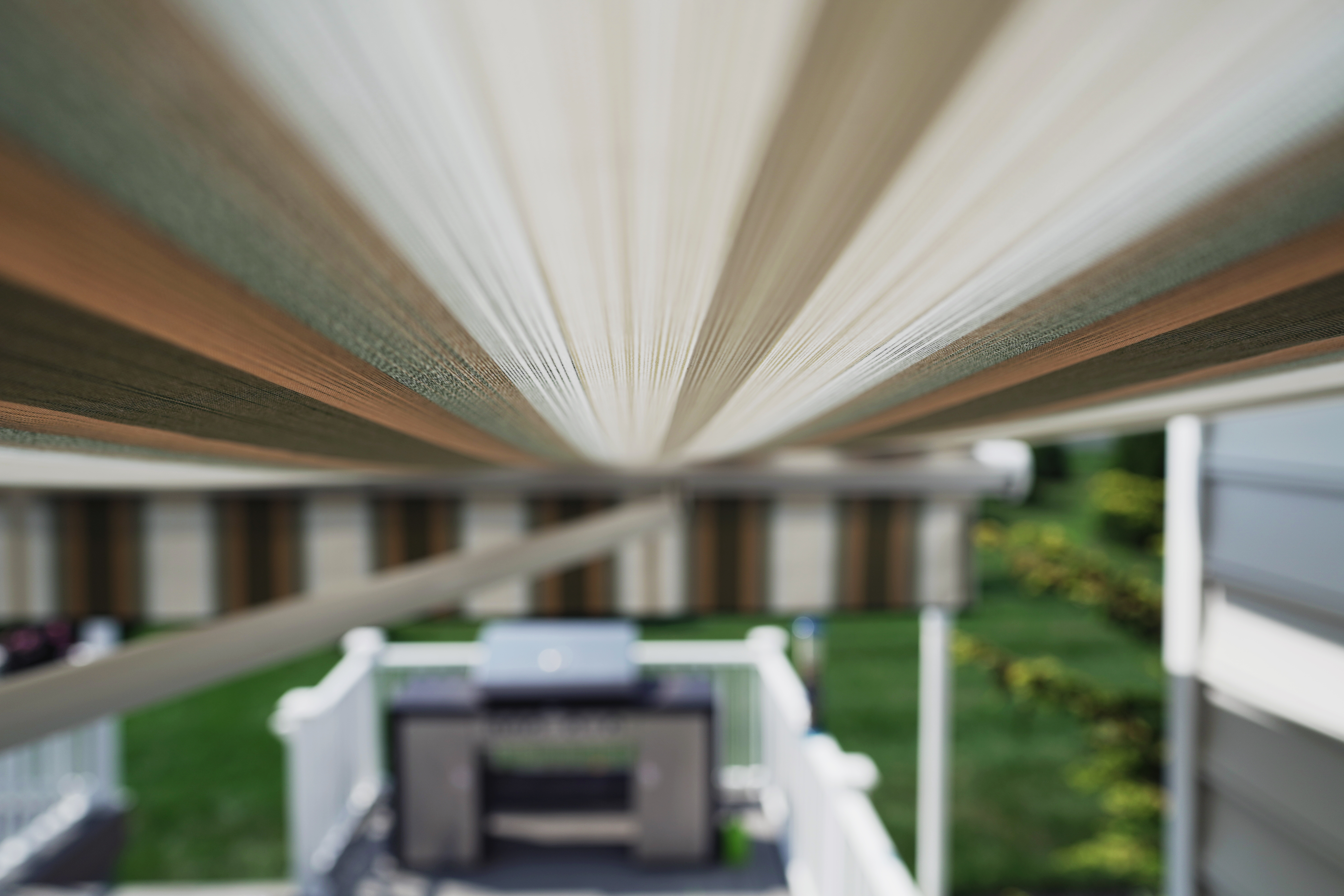 Optimizing the size and location of your awning is the first step in deciding on the right awning for you. Keep an eye on the sun's path for several days of bright sunshine. What time of day is your space baking in the heat? What time do friends and family most like to spend time outdoors? If the deck had morning shade, would you eat breakfast outside more often? What sorts of activities would you do if you could block the sun at certain times of day?
Common sizes and shapes
Common sizes for retractable awnings include 12′ x 10′, 16′ x 12′, and 20′ x 12′.
Don't hesitate to call us if you think you want an awning of a non-standard size or projection. We can create custom awnings that range from 8 feet to 22 feet and custom projections that range from 8 feet to 13 feet. Custom awnings should add approximately X percent to the cost of a stock size awning.
Measuring for a Retractable Awning
Grab a few common household items to help you get started. You'll need a measuring tape, a ladder or step ladder, and a pencil and piece of paper.
Decide the location or locations where you may want to place your awnings. If you're not sure, measure all the possible locations that are accessible to you and we can help you decide once you've collected the measurements.
If you don't already know, determine the direction that the installation wall is facing. South and west facing walls will receive more sun than east or north facing walls.
Next, measure the available height on the wall on which you'd like to install an awning. We will require at least 7 ft 6 in between the ground, deck, or patio, and the eaves, roofline, or gutter above. What is the height of any windows or doors you'd like to cover?
Then consider the width of the space you'd like to cover with your awning and take the measurement of this space. The width of the awning will be the exact measurement of its defined size. For example, to cover a 12-foot space, you will order a 12-foot-wide awning. The actual fabric width is 5 inches less than the total awning width.
Consider the size of the area you'd like to cover. How much shade do you want? Should it cover your entire deck, patio, or other space? Also consider whether a valance or drop shade would be valuable to you in the desired area.
For motorized models, you can choose the side of your awning which will contain the electrical cord to accommodate the position of your electrical outlet. You can also choose between the standard wall bracket (suitable for most) or a soffit bracket. Roof mounting brackets are available when the minimum mounting height of 7 ft. 6 in. cannot be met.