Knowledge Base
Selecting the Right Fabric Color
This is the fun part: choosing the color for your home's awnings. At Humphrys, we have nearly 1,000 fabrics from a range of manufacturers to choose from. But don't worry—we know how to help you narrow down the options and choose the right color and style awning that will work for you.
When helping you select a fabric, we take several factors into consideration. The style and setting of your house are key. A bright color that could play up the style of a modern house might wind up looking bizarre on a historic home. A playful color or pattern that would complement a beach house could look frivolous in the suburbs. We'll happily lend you our eye in determining what will work best.
We also take your general color preferences into account when recommending fabrics. While yellow is a great color for reflecting heat, if you're not in love with yellow, you're not going to love it taking center stage on your home's exterior, either! In addition to your house's main color, we will also want to consider any trim colors and patio furniture colors as well as any other colors that may be dominant inside your home.
Light vs Dark Colors
The bottom line in terms of light- and dark- colored retractable awnings is pretty simple. Light colors like white and pastels reflect light and therefore will drive light away from your home. The darker the color, the more light it will absorb, which means that it will trap far more heat than a light color. If energy savings is a major reason for your investment in a retractable awning, then you should stick to a color on the lighter side of the spectrum. If you're more concerned about style, then you are free to choose deeper shades.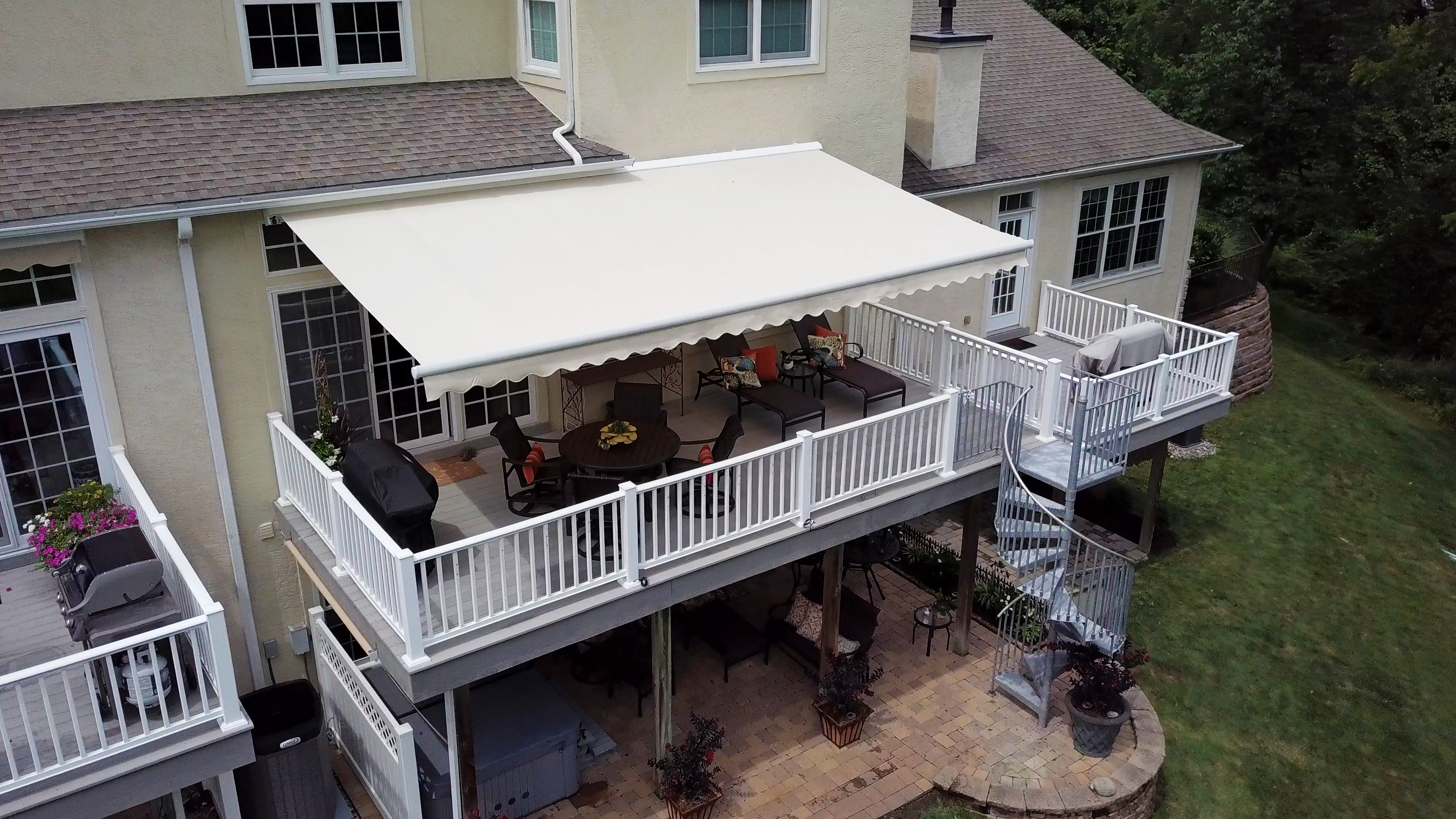 Popular Color Combinations
There are so many ways to beautifully accent your home with colored awnings. First, it's important to consider the type of home you'll be outfitting. A historic home could be well complemented by subtle striped awnings with scalloped edges. Modern homes can be complemented by sleek lines and bold colors.
Can the rules be broken? Absolutely. However, you'll want to consider whether you're being guided by trends or truly by a sense of your own style—it's important to choose something that you will still like in 3 or 4 years! Looking at Pinterest and other online sources will help you get a sense of what will work best on your home and for your taste.
If your house is:

Gray, brown awnings look ultra-sophisticated. Yellow creates an attractive contrast.

White, a red awning can work well. Blue looks stately and conservative.

Red brick, avoid any shade of green awning.

Tan/beige, choose blue or green if you want the color to pop.

Blue, avoid red.

Yellow, green is a popular color choice.

Green, brown will complement it.

Wood, many colors along with black will work well. Decide based on your surroundings and the style of the home.

Black awnings, while not the choice for energy efficiency, can work with virtually any house color. Shades of brown also work well with most houses. Red awnings tend to fade more quickly than other colors, while yellow, blue, and green will hold their color longer.
Keep in mind these general guidelines for different types of architecture:
Traditional homes: Deep/dull greens and blues and other neutrals

Cottage style homes: Work well with stripes

Colonial homes: Neutral colors, stripes

Modern homes: Stay away from patterns; solid colors work best

Beach homes: Color and patterns--take a chance!

Southwestern- and stucco-style homes: Brown-red shades in solids or stripes work well with these home types
Other Style Considerations
Scalloped edges: These work well on colonial homes or at a place of business

Stripes vs solids: Stripes can work well for a retail store or colonial style homes. The size of the awning will dictate the width of the stripe. A narrow stripe will be overwhelmed by a big awning. A rule of thumb is: the larger the awning, the larger the stripe.

When it's retracted: Your awning's cassette can match the color of your home in order to make it almost invisible when the awning is retracted.

Drop shades for additional sun protection: Particularly if your patio is south or west facing, you may wish to add a drop shade to your awning for extra shade in the hottest parts of the day.