Knowledge Base
Which Components of a Retractable Awning Matter to a Customer?
Not all awnings are made equally, and everyone in the market has to manufacture to a price point. But what components matter most to the customer? Read on to find out.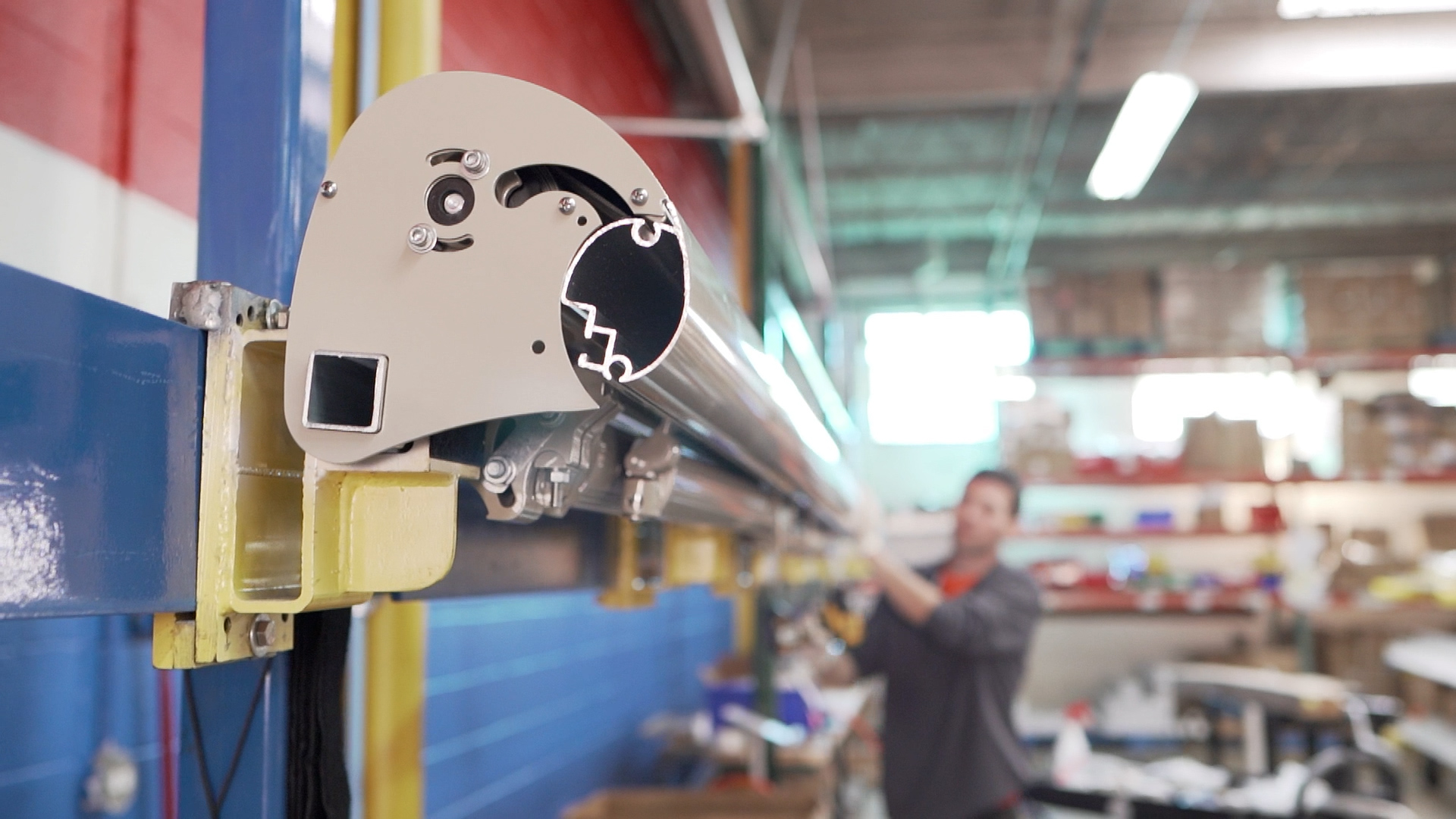 Why Read About Parts?
Becoming familiar with the parts of a retractable awning will help you choose the ideal awning for your needs to make sure you get the most out of your investment. While most items below will be part of every awning, a few are optional. For instance, do you want a drop shade for extra sun protection? Other parts will offer you a choice. Will your awning have a regular or scalloped edge? Do you want an electric or manual mechanism for opening and retracting the unit? What sort of cassette type will you choose? We will consult with you closely to determine the awning that will work perfectly for your needs.
Fabric
Choosing your awning fabric is the most fun and creative aspect of investing in a new retractable awning. Consider carefully the weather in your area to aid you in deciding whether you need fabric that is UV resistant. Of course, this is the part of your awning that will provide that much needed shade from the hot sun, so consider carefully the color (especially whether light or dark), UV protection, and mildew resistance when choosing a fabric.
The gold standard for weather resistant and long lasting fabric is Solution-Died Acrylic, which comprises the fast majority of the fabrics we offer. The fibers of this fabric are died all the way through in the manufacturing process, and as a result the color holds up far longer than any other type of fabric. Acrylic fabric also has the benefit of being highly water, mold, mildew, and dirt resistant, as well as being easy to clean.
Our fabrics have a fade-resistant binding and valances are sewn on with Gore Tenara thread, providing the strongest seam possible--in fact, it's virtually indestructible. Our selection numbers at nearly 1000 colors and patterns from brands such as Sunbrella, Recacril, Sattler, Dickson, and Para.
To learn more about fabric types and the pros and cons of each, take a look at our article on the subject.
Frame
The metal frame allows the awning to be mounted to the surface of the home. Most reputable awning companies carry frames that work for rooftops, soffits, and walls, giving the homeowner flexibility in the area and height at which an awning can be mounted.
The material these parts are made out of can be extremely important depending on geography. While galvanized steel is the gold standard for frame hardware in most environments, it is important to use aluminum near the oceanfront for increased rust resistant. The high saltwater content in the air can be particularly corrosive to normal awning frame hardware.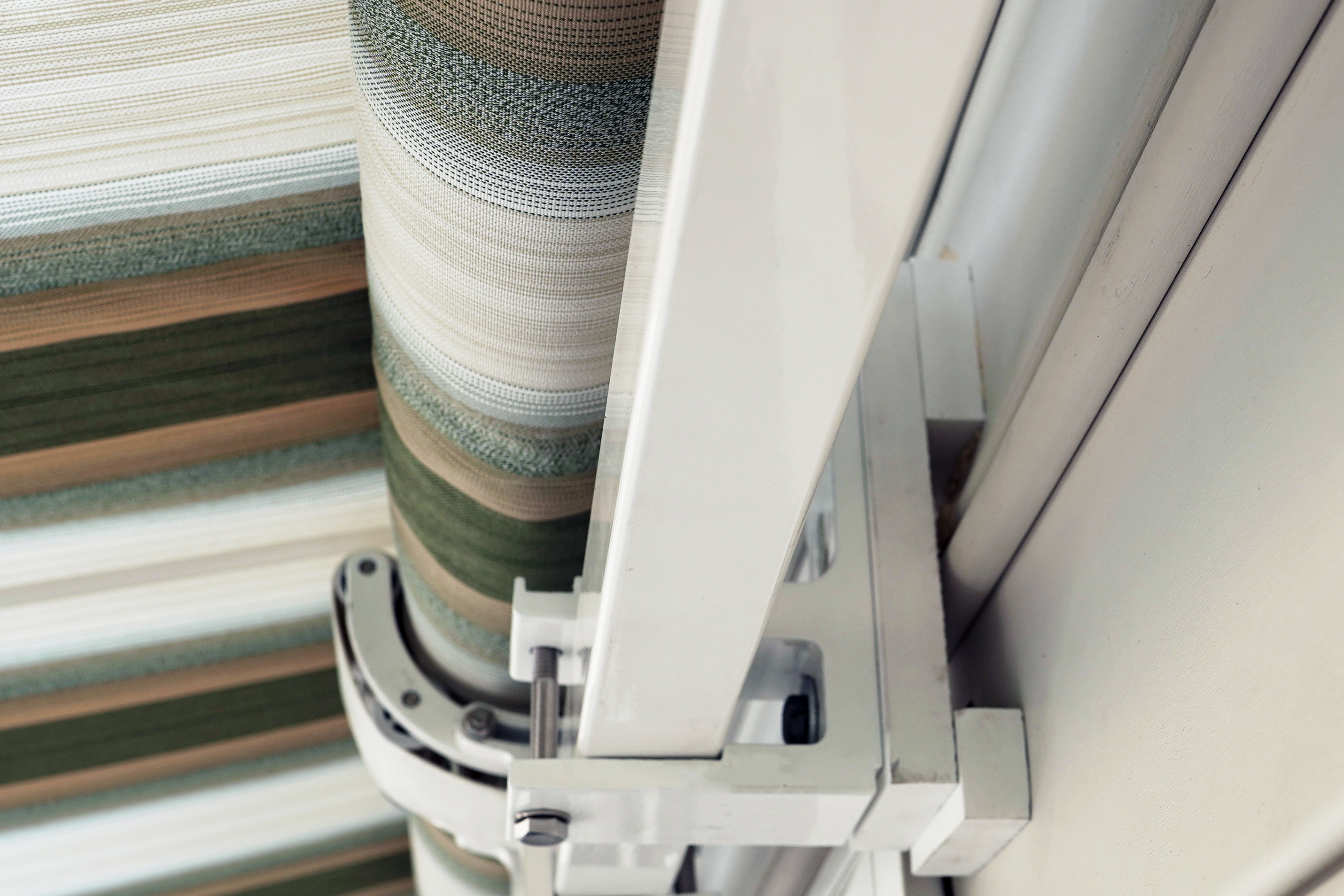 Protection
To ensure that your awnings fulfill their maximum life, we recommend that all retractable awnings have some sort of weather protection that covers the fully retracted awning. We offer a variety of ways to achieve this, some built in and some requiring effort by the homeowner.
For our less expensive Bravo! model retractable awnings, we optionally include a hood with every purchase. While this hood is redundant and unnecessary if the awning is being installed under a soffit, the hood is great for wall installations where there isn't natural weather protection right above. The hood fits snugly above the fabric roll, keeping rain, sunlight, and debris off the retracted awning and out of the mechanical parts.
Our upgraded Complete awning takes this protection to another level entirely with its integrated cassette design. With this awning, the entire assembly except for the support arms are housed within a fully enclosed cassette, offering a practically weather proof container to the awning whenever it is retracted. The cassette also creates a streamlined look while keeping your retracted awning clean and protected from the weather.
Removable cloth covers are also available for additional protection during winter months, when the awning isn't likely to be used frequently.
Front Bar
The front bar runs along the front edge of the awning and attaches to the arms via a swivel attachment which dampens the wind, preventing damage. This component is a major separator of lower and higher quality awnings. Without a robust front bar and the energy absorbing swivel attachment found on all Humphrys awnings, it is far more likely that a retractable awning will be damaged by high wind. The force exerted on the large fabric surface attached to the front bar can easily bend or break the front bar or connection to the arms if they are not sufficiently strong or lack mechanisms for dealing with the strain.
Valance
The valance provides a decorative edge at the front of the awning and can be fabricated with a straight or scalloped edge. The valance also provides some extra defense from light and glare.
The valance is the part of the awning that is moved most by the wind, as it hangs loosely from the front bar. As a result, it's very important that the valance have a strong binding, otherwise fraying could very quickly start to occur. The Humphrys binding is fade resistant and strong, and designed not give out before the rest of the awning.
Humphrys also offers a vario-valance, which is basically a drop screen built into the valance. This will allow you to extend the valance up to 6 feet vertically, offering excellent sun and temperature control in the early mornings and evenings.
Lateral Arms
The awning's two or three arms push the fabric cover open and hold it taut, creating a stable and aesthetically pleasing barrier against the sun. They are some of the most critical parts of the awning, due to the weight they must carry. If they start to sag or weaken, the cover can also start to sag and collect moisture and debris. This will quickly lead to a very shabby looking awning, or even failure.
The arms on all of our awnings are made from powder-coated aluminum, which makes them durable, stable, and sturdy. The moving parts in our arms require no maintenance, minimizing repair frequency. The strength of our arms are a big reason we are able to offer a 12 year warranty on other components, such as our fabric covers, as having a sturdy and reliable structure decreases the wear from use on the entire awning.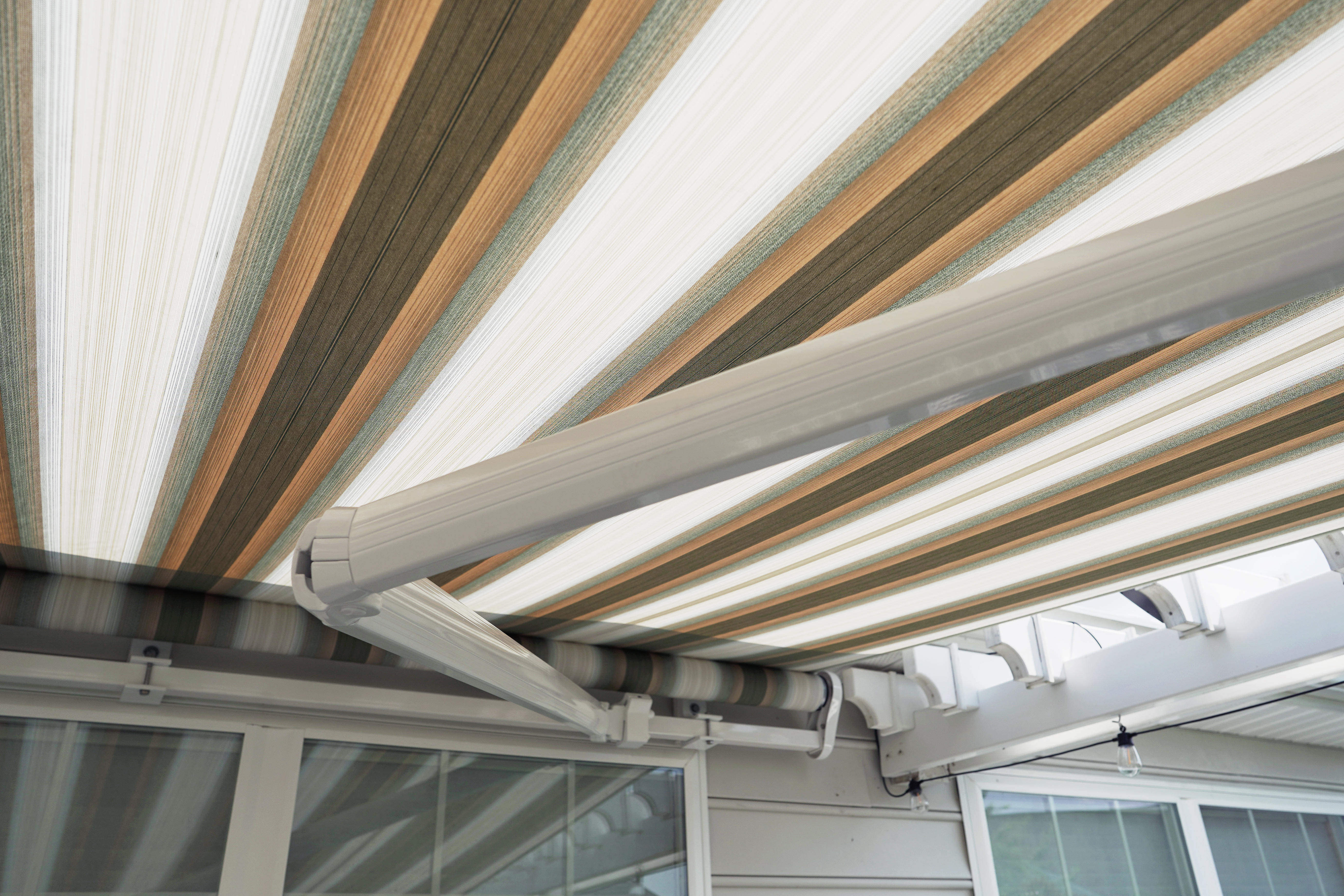 Motor or Crank
Retractable awnings are available with both manual hand cranks and electric motors for operation. A hand crank is easy to use with its included removable handle, and has the benefit of not relying on power. No wiring is necessary for operation! As you can no doubt guess, manual retractable awnings are also considerably cheaper than powered ones.
That said, nothing beats the convenience of being able to hit a button on a remote and watching your awning open, close, or extend to a preset spot from a distance. An electric motor with a remote gives you the ability to adjust your awning without getting up, or even leaving your house. Many retractable awning owners discover to their surprise that they use their awnings to shade their home interior just as much as they do outside on their patio.
Somfy is the gold standard of awning motors, and quite a few higher end awning brands either use or offer as an option their motors. Beyond simply being strong and reliable, Somfy motors come with intuitive wireless control options, and can be integrated into smart home systems.
Drop Shade (Vario-Valance)
If an awning is robust enough, a retractable drop shade can actually be attached to the front bar. This will allow homeowners to extend shading down horizontally on demand -- a godsend in mornings and evenings when the sun is low.
Sturdy lateral arms are a must to support the additional material and hardware at the front of the awning, but if your retractable awning offers this feature, you can be confident that the model is over-engineered for normal use.
Optional Extras
There are many improvements that can be added on to good retractable awnings in order to provide even more utility or ease-of-use. In particular, look out for the following:
Integrated LED lighting - fitting onto the bottom of the lateral arms, adjustable LED lights can lead to your awning being useful and enjoyable after the sun goes down.

Wind sensor - motorized retractable awnings can be fitted with a wind sensor, which will automatically retract the awning for you if the wind gets to be such that the awning is at risk of damage. This is highly recommended, even just for the peace of mind it provides.

Smart home integration - more than two decades into the second millennium, homes are becoming more and more automated. A motorized awning should be able to integrate with whatever smart home or home automation environment you run. Just imagine; operating your awning with your voice, or automating deployment and retraction with your schedule each day.

Logo printing - Retractable awnings aren't just for homes, and can provide excellent on-demand shade for outdoor dining areas and storefronts. When used in business, a custom printed valance with your logo, business name, or services truly sets your exterior apart from the surroundings.
Warranty
A retractable awning is a complex and precisely engineered piece of hardware with constant exposure to weather, so one of the most important components should be the warranty. When making such an investment in the exterior of your home, you need to be sure to gain value for years and decades to come. A solid warranty is the best way to ensure this.
Humphrys Awnings believes that a strong warranty is one of the best indicators of quality available to consumers, and so we offer guarantees longer than those of the manufacturers of the components we use:
Lifetime warranty
Aluminum parts: front bar extrusion, mounting bar, hood cover, physical shape, structural integrity

Stainless steel and galvanized steel components: Roof mount brackets, hot dipped roller tube

IncrediSeal welded seaming
12-year warranty
Shoulders, mounting brackets, lateral arms, and roof mount brackets

Fabric: 12-year prorated warranty on acrylic fabric
10-year warranty
Steel parts: Steel mounting bar (5 years if installed within 5 miles of salt water)
5-year warranty
All paint finishes due to cracking or peeling

Motor and electric components for motorized retractable units